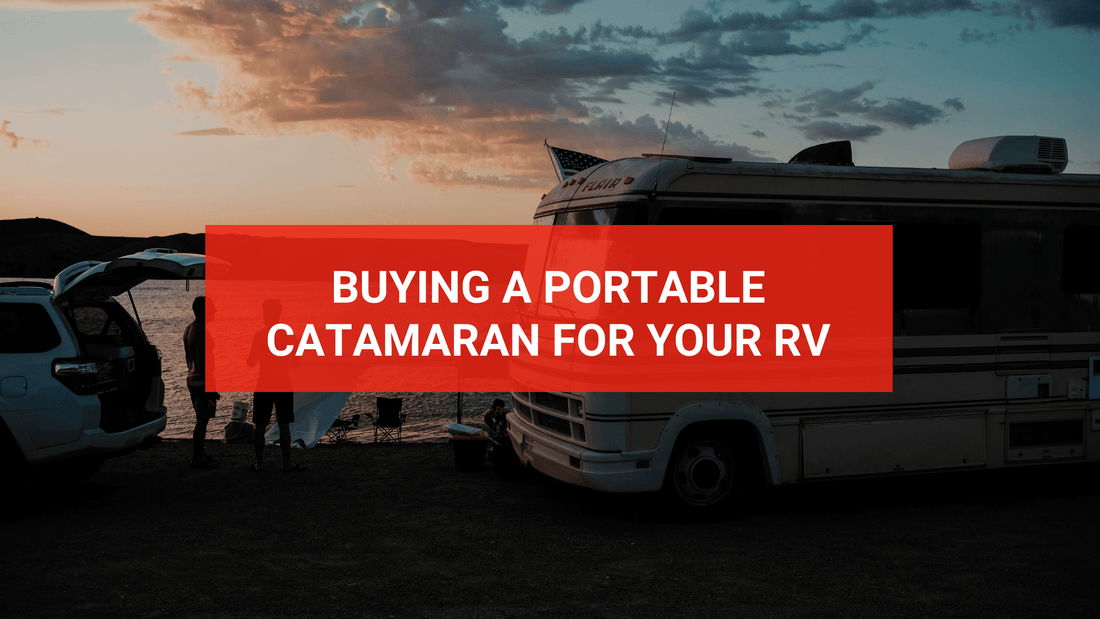 Buying a Portable Catamaran for Your RV: What to Consider
As soon as you start considering to buy your first RV, you start thinking about all the accessories and toys you want to enhance your road trips. One of the things that you may be considering is an inflatable boat. A portable boat for RV trips can make your time on the water as fun and memorable as your time on the road.
There are lots of options for motorhomes, including various sizes to fit your RV. Best of all, an inflatable boat is ideal for any water adventure you have in mind: day boat, tender, fishing, scuba diving, hunting. 
Which boat is best for you? How do you begin your search to begin your boating adventure? Below, we provide the perfect guide to buying a portable boat for your RV.
RV Type and Size
Naturally, the type of portable boat you buy needs to be compatible with your recreational vehicle. Similarly, your motorhome needs to accommodate the size of the boat. Common recreational vehicles models include
Class A, B, and C motorhome
Truck camper
Popup camper
Fifth wheel travel trailer
Toy hauler
Each vehicle type and size can accommodate a matching boat. For instance, toy haulers can store large portable boats. A fifth-wheel travel trailer can also haul larger boats. A class A, B, or C motorhome can haul various boat sizes depending on the class. 
If you have a truck or popup camper, you may want to consider a smaller portable boat for one to two people. In any case, a good place to start your search for inflatable boats is first to determine what your rec vehicle can haul.
Portable Boat Storage
Since most watercraft are larger, you will need a sizable storage area to store the vessel and its accessories. Fortunately, inflatable boats are easier to store than traditional boats. The main reason for this is that you can deflate hulls, roll up the boat, put it in its carry bag, and store it in a designated area in your RV. As an extra bonus, Takacat's portable boat bags contain giant vents on each end. So, the boat will air out even if you've had to make a quick getaway.
How much space will you need to store your craft? That depends on the size of the portable boat you purchase and how much space you're willing to commit for the boat, motor and any accessories. In most cases, you can fit portable boats into a compact closet or storage space anywhere inside or under your RV. 
It takes up slightly more space than a large rolled-up tent. Your boat can withstand harsh weather. So, it is possible to store it on top of the vehicle or in an exterior storage compartment down below.
Gross Vehicle Weight
As an RVer, one of the main issues you have to consider is the total amount of weight your RV is transporting. This total amount is known as the gross vehicle weight (GVW). It considers everything you have onboard, including necessary supplies, water, cargo, passengers, and the unloaded vehicle weight.
While something as small as an inflatable boat may not seem like much weight, every item in your RV adds up. So, if watercraft is a priority for you, you need to prioritize and purge other items in your RV. Finding an inflatable, like the Takacat, that can better utilize low HP outboards (Read: lightweight) efficiently is paramount for many.
On average, inflatables weigh between 30 and 100 pounds depending on the size of the craft. You also need to add the weight of the storage bag and any accessories you will be packing. An electric outboard will weight 20-40 pounds, and gasoline outboards range in weight from 30 lbs for a 2.5hp to 120+ lbs for a 20hp.
Features for Inflatable Boats
Multiple Air Chambers
Multiple air chambers improve the float-ability of your boat, providing maximum stability on the water. The best inflatable boats use three or more different air chambers for this purpose. If one air chamber is low on air, the other two can maintain the boat's floatation.
Tackle storage
Many inflatable boats come with a ample space on the deck for storing fishing tools and other gear. If there is no dedicated space, you can always add accessories to the boat. Ensure that any tackle storage feature is secure to keep your hooks and other tackle from falling out. Coolers and other bulky cargo is easy to securely fasten to the boat using straps that wrap underneath of the air-deck floor.
Rigid Air Deck
Rigid air decks are much better than hard material or low pressure inflatable ones because they're more robust and let you firmly stand on your feet while a big fish is pulling the thread of your fishing rod. A high pressure air-deck floor allows for the smallest storage factor without sacrificing vessel stability.
Rod Holders
Rod holders are useful for anglers who need a safe and stable space to place their fishing rods. Finding a boat, like the Takacat that already has an option will save you money over a boat that requires glue-down patches in order to add rod holders.
Inflatable Seats
Inflatable seats are soft and comfy, providing the most comfortable support for your back. They don't add extra weight to the boat. Plus, you can deflate the seats to occupy less storage space. However, they aren't as stable as rigid seats. On a Takacat you can sit on the floor with your legs over one tube, while laying your back against the other and you will find near hammock-like comfort for longer journeys.
Recreational Activities
The activities you engage in on your journey will dictate the type of inflatable boat you need and whether you can fit it in your RV. For instance, the watercraft you will need for a fishing trip differs from an inflatable you will need for a scuba dive. Which boat can enhance your RV life?
Day Boat
A day boat gives you the flexibility you need to embark on almost any short adventure. It's perfect for a quick cruise, swim, picnic, or exploration. The inflatable is small enough to fit in your recreational vehicle but large enough to accommodate two to four passengers. The deck has plenty of room for your gear and accessories. Don't be left out of the sandbar parties when you can bring the party on your Takacat!
Fishing
A portable boat is compact - so you do not need to pull a trailer behind your vehicle. It is sturdy enough to accommodate an outboard and is adaptable to both freshwater and saltwater. Best of all, the durable rubber construction of inflatables resists hook snares or punctures caused by fish. Modern PVC inflatables can handle years of UV rays while you are fishing through the day without fading or falling apart.
Hunting
Hunting on the water presents various challenges. If you are cruising through marsh flats, saltwater, or timber, you need watercraft to handle the waterscape. A catamaran is perfect for hunting activities. It skims the surface quietly, giving you the advantage on the water. It can hold all of your hunting equipment, the prey, and even your hunting dog. Check out our other post that goes into more depth about hunting from an inflatable.
Scuba Diving or Snorkeling
Whether scuba diving, snorkeling, or swimming, one of the biggest challenges is getting in and out of the boat. Thankfully, an inflatable catamaran design is stable enough for this dynamic. The Takacat LX catamarans have an open bow and inflatable air deck. This combination creates a platform that makes it easy to get in and out of the water. You can also add an outboard if you plan to head out in open water.
Something else to consider when scuba diving or snorkeling is the environmental impact your boat will have. Traditional boats are noisy, have powerful engines, and can disrupt the wildlife. 
By contrast, an inflatable is easily pushed by a smaller engine or even electric to leave a smaller footprint with no wake. You can enjoy the wildlife and landscape without harming it.
Kid-Friendly Craft
If you have children, you need to consider their interests, as well as their safety. Children may be unable to get into traditional boats easily due to the steep, vertical sides. It is especially true if you have a wooden or metal boat with no flexible walls or deck. An inflatable boat can take your kids straight from the RV to the water, allowing them to participate in any family activity.
Many campgrounds have water features that are great for water activities, but some have muddy banks that make it difficult to swim, a portable inflatable boat then becomes the perfect swim platform!
When choosing the right inflatable, think about whether you will share one inflatable with the whole family or if you want to give your children their own watercraft. If you plan to share a single inflatable with the entire family, you will likely need a larger model. 
The key to keeping kids happy on vacation is a variety of activities. On a Takacat you can a great number of activities. From thrilling wave hopping, fishing, exploring and many more, the Takacat will be your most used toy whenever traveling near rivers, lakes, bays and oceans!
Inflatable Accessories
Accessories can provide convenience, safety, and enjoyment on your inflatable kayak, inflatable raft, or boat. However, you need to make sure that you have room on your craft for all the accessories. Larger boats with a spacious boat design should not be a problem if you have the appropriate boat weight and strong float tubes. 
If you have a smaller boat, you will need to decide which accessories are necessary for your trip. Some suggested accessories include
Electric inflator pump
Inflatable bumper
Bimini
Transport Wheels
Outboard
Outboard dolly
Cooler

Repair kit

 

(Tear Aid Tape, type B and K-Pump Mini)
Boat Cover
Transporting wheels
Rod Holders
GPS/Fishfinder Mount
Sailing Kit (coming soon to Takacat)
Anchor
Seats
Casting Deck
NMMA Certification
The National Marine Manufacturers Association (NMMA) is one of the leading boat safety organizations in the U.S. NMMA Certification helps boat manufacturers comply with industry safety and construction standards and federal regulations. 
To be NMMA Certified, boat manufacturers must certify each boat model they produce. You should avoid buying any inflatable that is not certified by the NMMA or a similar association, such as CE for European manufactured boats.
How do you know if your boat is NMMA certified? Look for the NMMA Certified logo located somewhere on the inflatable. Or you can ask your dealer for a catamaran or inflatable that is NMMA certified. NMMA Certified boats undergo third-party inspection to ensure that manufacturers meet all applicable standards. The result is a thoroughly inspected, high-quality boat for you and your passengers.
Portable Boat Safety Features
When it comes to any watercraft, safety should be at the top of your priority list. Safety starts with learning how to operate the boat properly and using the craft responsibly. Beyond that, you also need to purchase a boat that is capable of handling water activities. Thus, there are certain safety components you should look for when buying an inflatable.
Separate Air Chambers
The safest inflatable boats have multiple air chambers. Some less expensive boats have only one or two buoyant chambers (some oragami boats don't have any positive buoyancy, which means if it fills with water, it just sinks). This core safety feature is a must-have if you are serious about the safety of you and other passengers on the inflatable boat.
Full Perimeter Lines
The perimeter line is a utility line strung between 2 or more d-rings around the perimeter of your inflatable boat. Lines can be made from clamp straps, rope, or tubular webbing. In an emergency, the perimeter line gives you quick access to the boat. You have something to grab that keeps the boat near or helps you quickly get back into the boat.
Puncture-Resistant Inflatables
By their very name, inflatable boats may not instill confidence. However, they are perfect for rugged use in the water. Inflatable boat constructions leaves for a forgiving, hard wearing and easily repaired boat for years of reliable use. Make sure you purchase an inflatable with modern high-tech reinforced marine PVC as many boats are made of a non-reinforced vinyl. Inferior products may be cheaper, but you will not typically see more than a year of use from them.
Safety Valves
 

(OPV)

An under-inflated boat is unstable, therefore, unsafe. Equally as unsafe is an over-inflated boat. To prevent the boat from becoming overinflated, quality manufacturers add a over-pressure relief valve to pressure sensitive air chambers. The valve automatically releases air if the pressure inside the hulls exceeds the safe limit of the boat's construction. Boats without these valves can be dangerous to own and will not withstand extended use.

A portable boat is a perfect way to enhance your RV experience regardless of whether you go to the lake or the ocean. There are lots of options available for motorhomes ranging from small campers to larger toy haulers. Regardless of whichever you decide on, we at Takacat have the perfect boat for you!