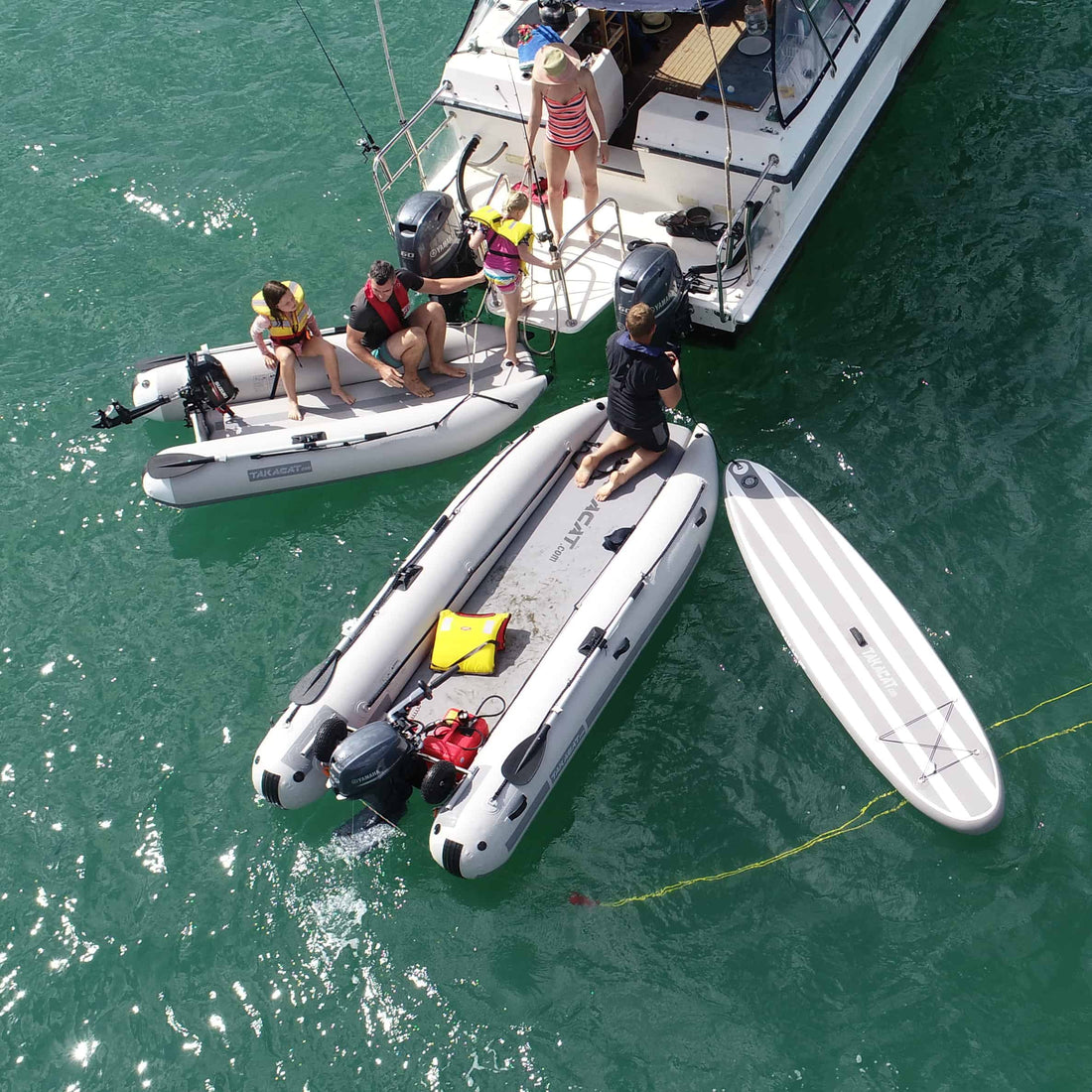 Choosing the Right Inflatable Boat: A Complete Guide
Inflatable boats continue to rise in popularity with everyone ranging from hunters and fishermen to families, recreational junkies, and professionals. Boaters love them for their convenience, utility, and speed and because they are budget-friendly and easy to transport.
Rigid inflatable boats are quickly becoming the preferred choice for many marine professionals. Why? They're incredibly versatile and offer a surprising number of advantages over traditional hard-hulls. Not only are they cost-effective, but they also offer performance and reliability that you can't find in other types of vessels. 
Types of Inflatable Boats
Like wood boats or fiberglass boats, there are a variety of inflatable boats to choose from, giving you flexible options depending on your recreational or professional needs. 
Inflatable Dinghy
What Is an Inflatable Dinghy?
A Dinghy is a small boat carried or towed by a larger vessel for use as a tender. Dinghies are rowboats or have an outboard motor. Some are rigged for sailing but they differ from sailing dinghies, which are designed for sailing. A dinghy's main use is for transfers from a larger boat if the larger boat cannot dock at a port or marina.
Dinghies are typically between eight and 15 feet long. They have a shallow draft, so they can be taken into waters where larger boats can't venture. Dinghies are rated to carry a number of passengers. Many of these small boats can be controlled by one person but can carry up to eight people.
Key Dinghy features and Advantages:
Ideal as a tender boat
Rowing, sail, or outboard motor propulsion
Carries up to eight people
High load limit
Why Choose a Dinghy:
Most boaters prefer inflatables or rigid-bottom inflatable (RIB) dinghies, which are often lighter and more stable than hard dinghies. They have the benefit of being soft, so if you run into anything, like your own big boat, you'll bounce rather than ding. Their keels make them easier to row in a straight line. Plus, you can usually drag or carry them across a beach without damage. 
Inflatable Catamaran
What Is an Inflatable Catamaran?
A catamaran is a boat with two inflatable hulls. The term is derived from the Tamil word, kattumaram, which means 'logs bound together.' The first catamarans were used for fishing. Today's inflatable catamarans consist of twin hulls connected by a bridge deck. They are available in multiple layouts and sizes for various activities.
The catamaran draft depends on the size and type of cat. Small Takacats can draw mere inches. A large cruising Takacat may draw three to four feet. Some cats have daggerboards that are used to improve upwind performance. With the boards down, a Takacat cat can draw 10 feet or more. Catamarans make fine racers as has been proven by the America's Cup contenders. 
Key Catamaran Features and Advantages:
Spacious deck
Stable in rougher waters
Accommodates twin engines
Sail or outboard motor propulsion
High load limit
Why Choose a Catamaran:
There are multiple benefits of catamarans. They are faster, more stable, spacious, and have shallower drafts allowing safer anchorage closer to shore. Being on a stable platform with no heeling cuts down on crew fatigue, leaving the crew more alert and in control of the vessel.
The catamaran's double hull creates reliable stability that prevents heeling and capsizing. It reduces vessel roll at rest and at trolling speeds. One of the most obvious advantages of catamaran stability is in the elimination of seasickness for passengers.
Inflatable Canoe
What is an Inflatable Canoe?
Inflatable canoes consist of several air chambers that are inflated with a high-output air pump to obtain the right form and stiffness. Canoes can be paddled by one or two people. Inflatable canoes consist of tear-resistant tissue material which is coated with a rubber material.
Inflatable canoes are equipped with two or more seat benches where the paddlers either sit or use to knee on the floor of the boat. Canoes are spacious and perfect for long trips with a lot of gear. They attract paddlers who like to paddle with friends or family and want to explore nature on longer trips. 
Key Canoe Features and Advantages:
Multiple air chambers to maintain flotation
Ideal for whitewater boating and rugged environments
Drop-stitch material
Plenty of space for paddlers
High load limit
Why Choose a Canoe:
Inflatable canoes are durable, professional, and high-quality watercraft that serve your needs regardless of your water adventure.They are just as stable as traditional canoes, but with greater ruggedness due to the nearly impenetrable materials.
Inflatable canoes offer a combination of double and triple-layer fabric, separate inflation chambers, and airtight valves that give them durability and high performance on the water. The multiple fabric layers\provide extra protection against a tear or puncture. If they're good enough for the Navy SEALs, you can feel confident that you are getting a solid product.
Inflatable Rafts
What Is an Inflatable Raft?
Like other inflatable boats, Inflatable rafts have multiple chambers that are filled with air. Inflatable rafts are lighter, less expensive, and easier to store and transport than conventional rafts. 
They come with seats or benches and may have an optional hard floor.  As such, rafts are designed for drifting down a river, light paddling, or simple summer fun in calm waters. 
They come in different sizes that can accommodate different activities and varying amounts of people and gear. Some inflatable rafts are appropriate for whitewater rafting, as well as fishing, hunting, and other activities. Inflatable Rafts are used as tenders for larger boats anchored offshore.
Inflatable Raft Features and Advantages:
Extremely durable and impact-resistant
Easy to repair
Holds four to eight people
Row or motor propulsion
Why Choose an Inflatable Raft?
Inflatable rafts are quieter than traditional rafts. When fishing from a raft, you'll have an advantage by being able to move around the water without disrupting the fish. The hard-hull, inflatable-collar combination gives RIBs their superior stability compared to traditional boats. 
The buoyancy of the tubes makes them virtually unsinkable and also very stable. When you're running at high speeds, you don't have to worry about stability issues that arise with some other types of lightweight watercraft.
Features of a Top-Rated Inflatable Boat
When choosing the right inflatable boat, you need to consider your budget. However, choosing the cheapest inflatable boat may end in disappointment and headache. So, you need to choose a high-quality top-rated inflatable boat that is safe and will last you several years. There are certain qualities that distinguish a top-rated inflatable boat from its cheaper competitors.
1. Horsepower
Naturally, how much horsepower you need depends on several factors such as boat weight, boat length, and payload. Consequently, top-rated boats are the not necessarily the ones with motors that have highest horsepower. Instead, they have motors with the appropriate horsepower. 
The safest way to determine how much horsepower you need for your boat is to use the total weight of your boat as a guide. The rule of thumb is to have 25-40 pounds of weight per one horsepower. If your boat weight, with passengers and gear, is 800 pounds you would need a 20+ horsepower engine. Although this method provides a general guideline you will have to take into consideration certain factors such as:
Boat manufacturer limits
Boat manufacturer recommendations
Primary boat use
Number of passengers 
Fuel efficiency
Local and state regulations
Single or multiple motor use
Hull shape
A good starting point for purchasing an outboard motor is to consult a Takacat inflatable boat dealer or check with your boat's manufacturer manual. You can find out what your horsepower limit is and then choose accordingly.
2. Crew Capacity
When it comes to inflatable boats, here's what you can expect with crew capacity:
| | |
| --- | --- |
| Inflatable dinghy: | Up to eight passengers |
| Inflatable catamaran: | Up to eight passengers |
| Inflatable canoe: | Two to three passengers |
| Inflatable raft: | Up to eight passengers |
Inflatable boats are designed to have an impressive weight capacity. However, every boat has its limits, and it's a good idea to know what those limits are. Outside of the outboard motor, humans typically weigh the most of any item in the boat. In addition, weight is not the only consideration. There are two other items you need to remember. 
First, you need to consider how much space you have in the boat. Even if your boat has a crew capacity of eight passengers, you may only be able to fit six in the craft if your cargo takes up too much space. Plus, you need to think about weight distribution and how to balance each of your passengers.
Second, all those passengers in your boat will not sit still - movement is inevitable. The question is what type of activity will they be engaging in and can your boat handle the activity. There is a difference between the movement of two fisherman in a canoe and eight passengers in a large raft.
So, you'll need to know how many passengers you plan to take on your excursion and weight limit of your boat. 
3. Portability and Storage
Inflatable boats are collapsible in nature, and can be deflated, rolled up, and packed down into small carrying case. 
Since they can be reduced down to a compact size, it makes them an ideal choice for those who want to take their boat with them wherever they go, without the need of a trailer or a roof rack. Since they can be taken from A to B with absolutely no hassle, they can be used on lakes, rivers, and on the ocean.
When comparing inflatable boat portability and storage, the main thing to look at is what accessories come with the boat or what the boat requires. Most manufacturers include carry bags or storage straps that make your inflatable boat more compact and portable. So, the only the only other consideration is how much you have to transport and store your boat. 
Naturally, larger boats will require more space. However, with inflatable boats, the required transport space increase isn't that much with larger models. The smallest models can fit into small closets or compact cars. The larger models can still fit into medium-sized closets, trunk spaces, and RVs. 
4. Setup and Usage
Regardless of the type of inflatable boat you want, the setup and usage is virtually the same. The only differences in the boats is propulsion. Some boats only need a couple of oars, while others require outboard motors or sails. That's where you will see the biggest difference in setup. Otherwise, you simply inflate the boat and take off.
Top-rated inflatable boat manufacturers will often provide a setup and storage kit that includes the following items:
A set ot tubes
Transom assembly
Inflatable seats (depending on the boat type)
Manual pumps & gauges
Repair & patch kit
A set of oars (depending on boat type)
Carry bags
Cost of Buying Inflatable Boats
Inflatable boats can range from as little as $100 to around $2,000, depending on the style and use. For example, a small, single-person canoe will be far less than a multi-person raft due to size and features. On average, here's what you can expect to pay for different inflatable boat types:
Average Upfront Purchase Price
| | |
| --- | --- |
| Inflatable dinghy: | $1,000 to $10,000 |
| Inflatable catamaran: | $1,000 to $4,000 |
| Inflatable canoe: | $1,000 to $7,000 |
| Inflatable raft: | $1,000 to $12,000 |
Keep in mind, this is just the baseline cost of the craft at purchase. You will need to also factor in costs for buying and maintaining your raft including outboard motor, registration fees, safety equipment, accessories, conversion features, and maintenance & repairs. Fortunately, these added costs are far more inexpensive than they are with traditional boats. 
Maintenance Costs
One of the advantages of inflatable boats is that they require little to no maintenance. So, make sure you buy a make and model that actually doesn't need maintenance all of the time. If you find yourself fixing your inflatable boat after every other excursion, it's obvious you bought a cheap inflatable. 
However, even the best inflatable boats require some type of maintenance so that they perform at their peak every time you take them out. So, you'll need to factor maintenance into your overall annual cost. The most common types of inflatable boat maintenance include
Cleaning after each use
Washing the deck
Proper storage
Checking or replacing the air pressure before each use
Checking for punctures or damage before/after each use
Waxing the hull at least twice a year (if needed)
Polishing any metal on the boat
Replacing outboard anodes
Depending on what type of maintenance or repairs you have to perform on your boat at any given time, a top-rated inflatable boat should only require $200 to $300 of maintenance annually. 
Most maintenance will be preventative maintenance and not major repairs. On a side note, if you puncture the boat, you should have it professionally repaired. Doing so will ensure the repair meets safety standards and does not void your warranty.