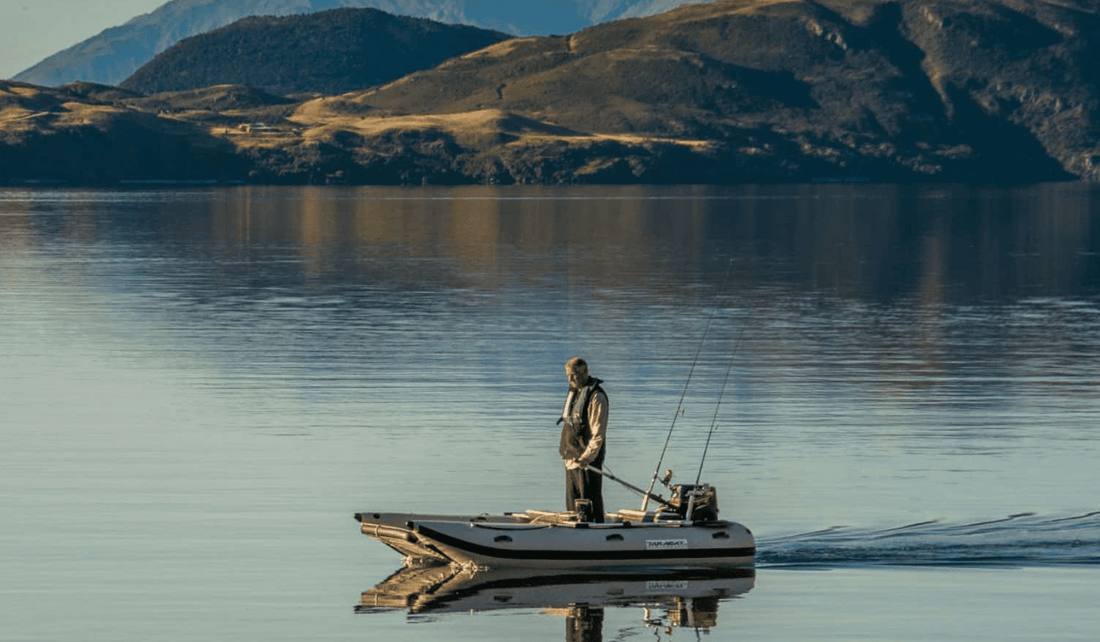 Boating In Canada: Best Lakes & Waterways You Can Boat On In A Weekend
Canada is one of the world's top destinations for boating. Not only do they have more lakes than anywhere else, but the scenes you'll take in while on the water are some of the most stunning you can experience. And we haven't even begun discussing the rivers - there are some bucket list waterways you can hit up in Canada! 
But, all these options can actually get overwhelming - where should you take your boat next? In this article, we're going to unveil the best lakes and waterways you can boat on in a single weekend. If you're making a quick trip up North and you want to squeeze out all the boating you can, we'll share some awesome recommendations across the various provinces. We're going to cover our top lakes and rivers in British Columbia, Ontario, Alberta, Quebec, Nova Scotia, Saskatchewan, and even New Brunswick. We've got a lot to cover, and we're going to start by making the case for Canada as the premier country for boating around the globe.
Why Canada Is One Of The Premier Countries For Boating
You probably know by now what makes Canadian boating unlike anything else. Whether you've got an inflatable motor boat or a canoe, kayak, or raft - boating in Cana is unique.
The landscape is breathtaking across the entire country. And there are so many different types of sights to see - from incredible mountain ranges to the views of Toronto's skyline. And with the measures the government has taken, Canada's boating-related deaths have dropped by 35% recently. Not only is it one of the most gorgeous places you can visit, but it's also among the safest.
There are more lakes in Canada than in any other place in the world. With a bit of planning, swift execution, and the right boat, you can cross a few destinations off your bucket list in a single weekend! The only tricky part is choosing where to start your trip. After all, there are 2 million lakes, 3 oceans, and just under 240,000 km of coastline to consider! Fortunately, you don't have to throw darts at a map and let fate choose (unless, of course, you want to!). We're going to share the best destinations for boating in Canada down below - let's not waste any more time!
What Are The Best Destinations For Boating In Canada?
What are the best destinations for boating in Canada? While everyone has their own personal favorites, there are a few must-see lakes and waterways in each province. That's another reason to make Canada your go-to destination for an upcoming fishing or boating trip. You can head to the nearest province and find a myriad of choices waiting for you! So, depending on where you want to take your trip, we'll provide a few recommended lakes or waterways you have to visit. We'll start with British Columbia for those on the West Coast.
British Columbia
British Columbia, or BC, is regarded as an international hot spot for boating. With an abundance of marine life to encounter, pristine wilderness, and year-round access, what more could you ask for? Make the mountains, forests, and coast of BC the destination of your upcoming trip! Whether you want to cruise, sail, or paddle, you'll find that British Columbia has plenty of options to offer. There is so much to see in the western-most province of Canada - and yet, we've managed to identify four incredible lakes to incorporate into your itinerary. You can spend some time exploring the great city of Vancouver and the coastal sailing to be had there. Then, make your way up along the Fraser River, turn along Harrison river, and see what Harrison Lake has to offer.
Harrison Lake -

 

the breathtaking views of the surrounding coves, beaches, islands, rock cliffs, waterfalls, forests, and snow-capped mountains are a great way to start your British Columbia boating experience. The fishing here is great, too, especially for trolling boats! And if you want a break from boating, kick back and relax at the Harrison Hot Springs. Just be advised - the freezing cold water is not suitable for swimming any time of the year. Once you've explored all that Harrison Lake has to offer, pack up and head to Okanagan Lake. 
Okanagan Lake -

 

we love this lake in particular because while you'll come for the boating, you'll stay for the recreation. The nearby city of Kelowna is a wonder in its own rights. And while on the lake, you can sail, canoe, kayak, paddleboard - you name it. This lake is popular in the summer months in particular - and while everyone in the area seems to flock to the lake, it doesn't feel packed. That's because there are 30+ beaches and 135 kilometers of water to stretch your legs out in. Just watch out for the water monster commonly discussed in local lore -

 

Ogopogo!
Shuswap Lake -

 

Just a short 2-hour drive north of Okanagan Lake sits the unique water system that is Shuswap Lake. With branches of water wrapping around a dense forest system, this lake really deserves a weekend just for itself! You'll have so much fun on this lake, particularly during summer - swimming here is very comfortable and safe. And with so many docks throughout the lake, you can effortlessly head into town without having to break your boat down.
Alberta
Heading east to Alberta, you'll encounter a plethora of lakes and waterways to boat on - many of which you can hit in a single weekend. But because Alberta is home to one of the most beautiful locations in the world, Banff, we'll focus specifically on lakes in that area. This will allow you to make sightseeing the emphasis of this boating trip and head home with stunning visuals you'll never forget.
Vermillion Lakes -

 

You can start your adventure in the town of Banff, exploring the mountains and taking in breathtaking views from heights you've never reached before. Then, start the boating fun in the Vermillion Lakes. Offering a serene view of Mt Rundle and unique marshlands, these lakes are home to all sorts of wildlife - including moose! 
Lake Minnewanka -

 

Just 3 miles from Banff sits the second longest lake in the Canadian Rockies: Lake Minnewanka. Originally formed as the result of glaciers melting, the views you'll take while rafting along this waterway are breathtaking. The picturesque views Minnewanka offers are one of the reasons it's among the most visited lakes in the nation. The turquoise-colored water is quite the sight itself!
The Bow River

 

- Regarded by many as the "Mighty Bow River", this waterway is a must along your Alberta travels. It stretches from near Banff all the way to Calgary - where you can take in the skyline and experience the culture! There are tons of places you can enter and exit from, making it easy to incorporate other destinations along your travels. From here, you can wrap your trip up and catch a flight or ride back to Banff where you began. Or, head back up the river!
Saskatchewan
Seeing as the province of Saskatchewan is covered by 12% lakes and rivers, there's no doubt about it - this is a premier choice for boating. The only problem is that Saskatchewan lacks major cities, making it tough to organize a trip. You'll have to do a fair bit of driving to make the most of your Saskatchewan. But trust us - it's worth the effort. You'll experience some of the most breathtaking lakes and rivers in the nation. And if you're fishing, you'll reel in some amazing catches! Let's start the journey in Saskatoon:
South Saskatchewan River -

 

This massive waterway stretches almost 900 miles. While you may not want to go the entire distance, you can choose your starting point along the river and float down. You'll see some incredible sights along the way, and eventually, reach the first lake on this trip: Lake Diefenbaker.
Lake Diefenbaker -

 

Just like the river you took to get here, this lake is huge. This is why it's considered "Canada's great lake". The boating here is awesome, and so is the fishing. You'll pull in your heaviest walleye to date here! And, this lake offers some of the world's best bird watching if you just want to kick back and relax along the 500 miles of sandy beach shoreline. From here, you can choose to continue your trip down the lake - after all, it reaches Alberta! - or visit one of the local lakes nearby, such as Reed Lake, Chaplin Lake, or Eyebrow Lake.
Manitoba
If you thought Saskatchewan was covered by a lot of water, wait till you see Manitoba on the map. Home to Lake Winnepeg and 100,000 other lakes, this is a location you must visit at some point throughout your life if you're into boating. Because there are so many lakes to choose from in this particular province, you can hit quite a few lakes in one trip. In fact, Whiteshell Provincial Park is home to over 200 lakes itself! Or, just cross the border of South Dakota and experience the greatest concentration of lakes within a single area you've ever seen in Turtle Mountain Provincial Park. The possibilities are endless. So, let's start :
Lake Winnipeg

 

- Let's start with the largest body of water in the province: Lake Winnipeg. This behemoth of a lake offers different views and landscaping depending on where you go. And only 10-15% of the lake is developed, meaning you can escape to calming, serene water with ease. 
Winnipeg River

 

- The bottom of Lake Winnipeg starts the Winnipeg River - offering a stunning journey down south. You can head into Lac du Bonnet and experience what it has to offer - eventually feeding into the Lee River. Or, continue down to Natalie Lake.
Lake Manitoba

 

- If you want to keep the trip more lake-focused, you can cross over from Lake Winnipeg into Lake Manitoba - another impressively large body of water. Bird watching is great here, and there is tons of water to explore if you just want to focus on boating. You can make your way up to the Northern part of the lake to experience towering limestone cliffs that descend into the water.
Ontario 
We're moving east to Ontario - where you'll find another province peppered with lakes and waterways just waiting to be explored. All this variety makes it tricky to choose just a few locations you can make a weekend trip out of - so, we're going to focus on options near the city of Toronto. This makes it easy to get in and out of the area and execute your trip perfectly. Let's start with a no-brainer choice:
Lake Ontario

 

- offering breathtaking views of the Toronto skyline, Lake Ontario is a great choice if you're staying in the city. You can explore up north and hop on the St. Lawrence River, or explore the Niagra River in the south.
Lake Simcoe

 

- Just to the east of Toronto and Lake Ontario rests Lake Simcoe. You can explore Georgina island, or visit the town of Barrie to the furthest easy point of the lake.
Lake Huron

 

- Lake Huron is a great third lake to hit along your trip. This wonderful location shares half its water with the United States. The Northern Channel of this lake offers a ton of sightseeing and exploration. Fishing here can be remarkable, too!
Oh, and if you're looking for fishing in particular? Explore these top boat fishing destinations in Ontario!
Honorable Mentions For The Best Destinations For Boating In Canada
The trips we've built for you above are awesome. But, we want to highlight a few of the best Lakes, waterways, and coasts in Canada for boating. While these may not fit into one of these trips, they are still worth adding to the bucket list!
The Northumberland Strait
Lake Newell
Sylvan Lake
Lake Louise
Moraine Lake
Emerald Lake
Spotted Lake
Abraham Lake
Great Slave Lake
Maligne Lake
Good Spirit Lake
New Brunswick's Riverways
The Muskoka Lakes & Trent Severn Waterway Region
The Rideau Canal & Waterway
Kenora
The St. Lawrence River
Chaudiere-Appalache
Wrapping Up Our Guide To Boating In Canada (Top Lakes & Waterways)
There you have it - we've helped you plan your next trip boating in Canada. We've covered the top lakes and waterways to hit in the most accessible four provinces: BC, Alberta, Saskatchewan, Manitoba, and Ontario. If we had more time, we'd cover provinces further north - as there are some breathtaking beauties to be found in Nova Scotia, Quebec, Newfoundland, Yukon, and the Northwestern Territories.
At this point, there is just one thing left to do - figure out the logistics and get your boat ready for the excursion! Having an inflatable boat like the Takacat makes these trips a breeze. Why? Simple - no need to haul a trailer across the border. Simple pack up the boat in your trunk. Or better yet, check the boat as luggage and catch a flight. After all, the boats we offer break down completely into two bags. You can even fit your boat on a Cessna or seaplane to reach some of these more difficult-to-reach destinations - so, upgrade your boat today and make trips like these easier and more fun than ever before!